SABINO PF.MINIATURE PERFUME BOTTLE FRIVOLITEl"

Sabino Art Glass Opalescent Crystal.

*Hand Blown technic.

SABINO ART DÉCORATIF PERFUME BOTTLE "FRIVOLITE"

* With hand beveled crystal top



Until the turn of the 20th Century, perfume was an espensive luxury only the rich could afford. So, too, was glass.

Women bought their perfume in plain vials and decanted them into expensive perfume bottles, frequently made from a variety of semi-precious materials.

The arrival of the 20th century not only made perfume production techniques more affordable, but brought the possibility of, and demand for, a new range of perfume bottles.

3.50"x 1.25" - 9cm. x 3cm.

1 oz. 30 ml.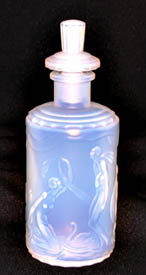 View large image